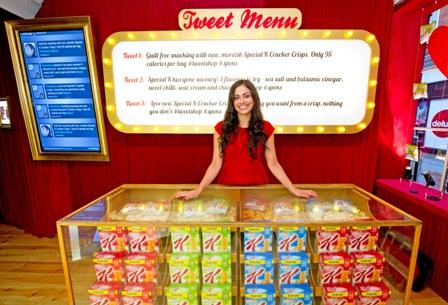 The clever clogs at Kelloggs have opened 'Tweet Shop', the worlds first walk in shop where customers can purchase Special K Cracker Crisps using their Twitter postings as currency. Yes the world has gone bonkers…

This is for a trial period only and although open now, 9 to 5pm the twitter currency buying ends this Friday (29th). We are half tempted to drop by just to check out the red dress wearing Special K shop assistants, easy, who are on hand to explain about their "try before you buy" snacking area and "community noticeboard". Pop along before the week is out and see for yourself.
Is this how our lives will be changing, paying for produce with our tweets? Wait till I tell the lads about this down the pub, I'll get the round in with the Friday Follow.
It's already doing well on Twitter under #TweetShop

Tweet Shop
13 Meard Street